My brother visited today and had not toured the National Mall so we took a day to do so. Since moving here I have spent a lot of time walking, running and cycling the national mall and I believe that touring the mall by bike is hands down my favorite means of getting around.
The Route
The key to this route is the starting point. I'm likely biased for multiple reasons but I feel like Gravelly Point is the best place to start. We have family that lives right down the street and we rented a house near there so I ran past this place many times. It's neat to see the planes land or takeoff from Reagan Airport at Gravelly Point but if you really dig that kind of experience it's best to capture it when you're done riding since you'll want to relax after the day. If you don't have a bike, you can find a Capital Bikeshare stand there otherwise you park for free and head toward the Tidal Basin.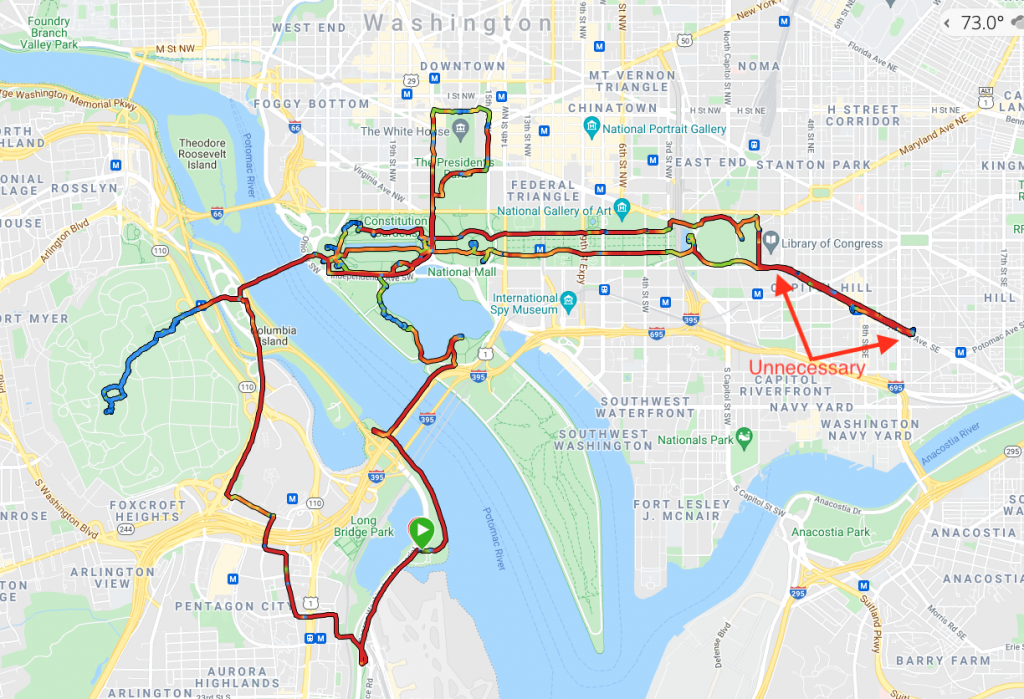 Starting off we headed toward the Thomas Jefferson Memorial, passing the George Mason Memorial. You can lock up the bikes and run up into the Thomas Jefferson Memorial for a quick walk around the statue. After getting our fill of the Thomas Jefferson memorial we circled back and headed toward the Franklin Roosevelt Memorial. If you see a ranger anywhere, be sure to ask questions. We were lucky enough to run into an awesome ranger at the Franklin Roosevelt Memorial that blessed us with an awesome history of not just Franklin but his wife Eleanor Roosevelt who was a one of the strongest women championing human rights! Despite Roosevelt never wanting to be pictured in a wheel chair, human rights groups eventually were able to get the statue of him in a wheelchair installed to show that you shouldn't allow disabilities to prevent you from being a champion leader.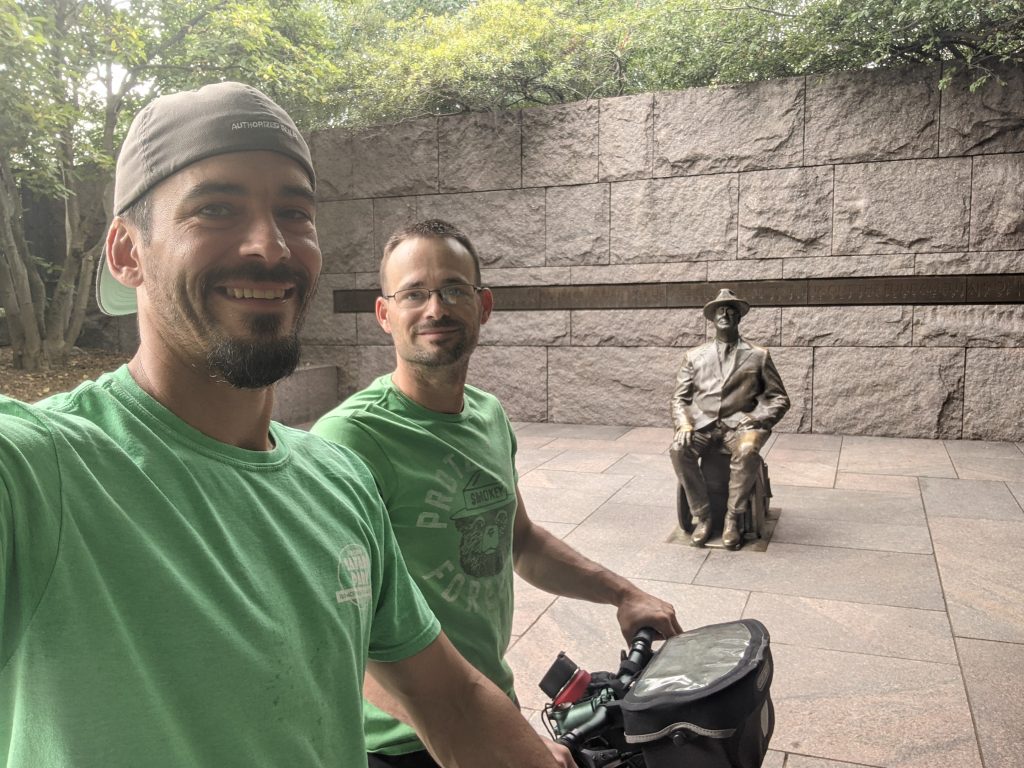 Now it's time to continue around the Tidal Basin and visit the Martin Luther King Jr. Memorial. Very often, there is a civilian guide there sharing information. We opted to head toward the Lincoln Memorial and lock our bikes up there to walk up the stairs and view the Lincoln Memorial up close. It's been under construction for quite some time but we also got a glimpse of the Korean War Veterans Memorial then walked over to the John Ericsson Memorial before pausing for some snacks and drinks at the Lincoln Retail Refreshment Shop. If you started the trek out with a regular Capitol Share bike then you'll want to check these bike racks for an electric bike you can swap out for! It will make the rest of your trip much more casual.
Cruising East on the South side of the reflection pool toward the World War II memorial it was time to find our state(s). Matt and I share Minnesota in common so we grabbed a picture there. You have to stop and appreciate the 4,048 gold stars on the World War II memorial which individually represent 100 lives lost. Our freedom stands on each and every one of those soldiers that our families lost in World War II. That's nearly half a million lives lost for our freedom.
To the CAPITOL! En route to the Capitol building we circled around the Washington Monument, which is definitely worth a visit to but since my brother had to fly out in short order we didn't want to stand in close proximity with other folks to tour that beautiful monument. The same went for all the amazing museums we passed on the mall in between the World War II monument and the Capitol. If exchanging oxygen with random people doesn't hinder your travel plans then I highly suggest taking the ride between these monuments slow and investigate the opportunity to lock up the bikes and enter any building you appreciate en route. The Air and Space museum is especially interesting to us but we passed it on this trip.
When riding around the Capitol be sure to pass East over First St NE to view the Supreme court! In our case, there was an active demonstration going on that day.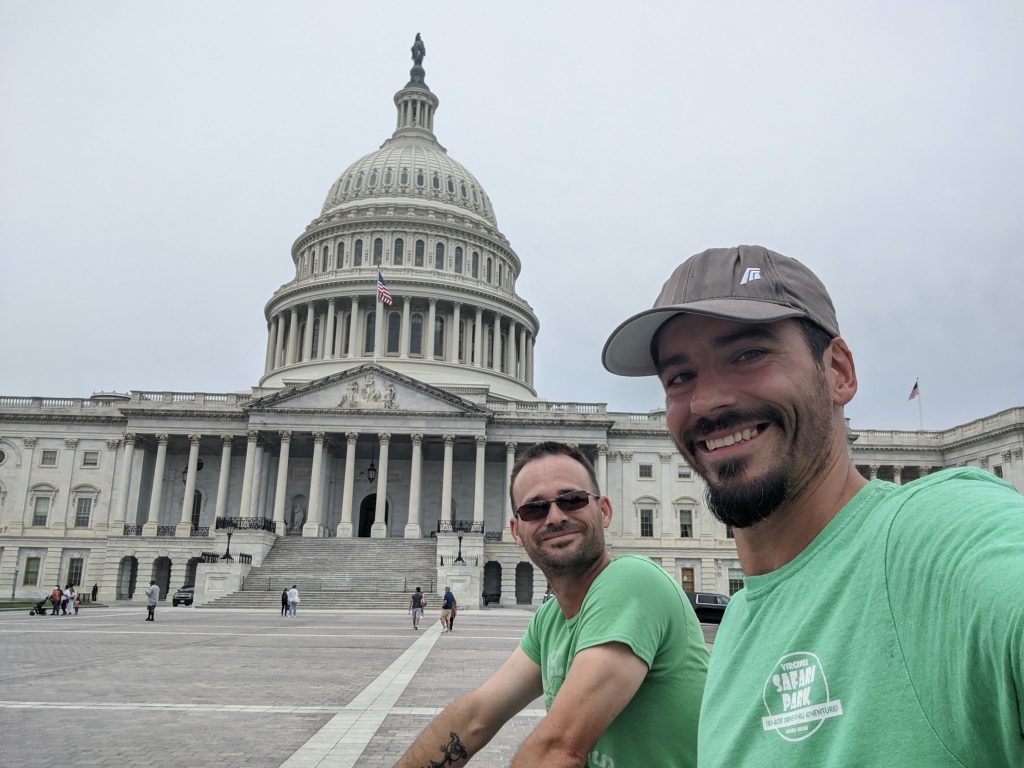 After riding to the Capitol we took an extra and completely unnecessary tour down Pennsylvania Ave SE to go find a pair of sunglasses but if you want to grab a bite from a restaurant that's not just serving up frozen deep fried foods then I would highly suggest heading out southeast or north of the mall.
Heading back East we visited the somber Vietnam veterans Memorial and the Vietnam Women's Memorial. Again, so many men and women laid it down at the direction of our administration.
At this time we had absorbed a lot of memorials and grabbed way more pictures then you see here so we decided to stop back by the Lincoln Retail Refreshment shop for a beer before heading toward the white house.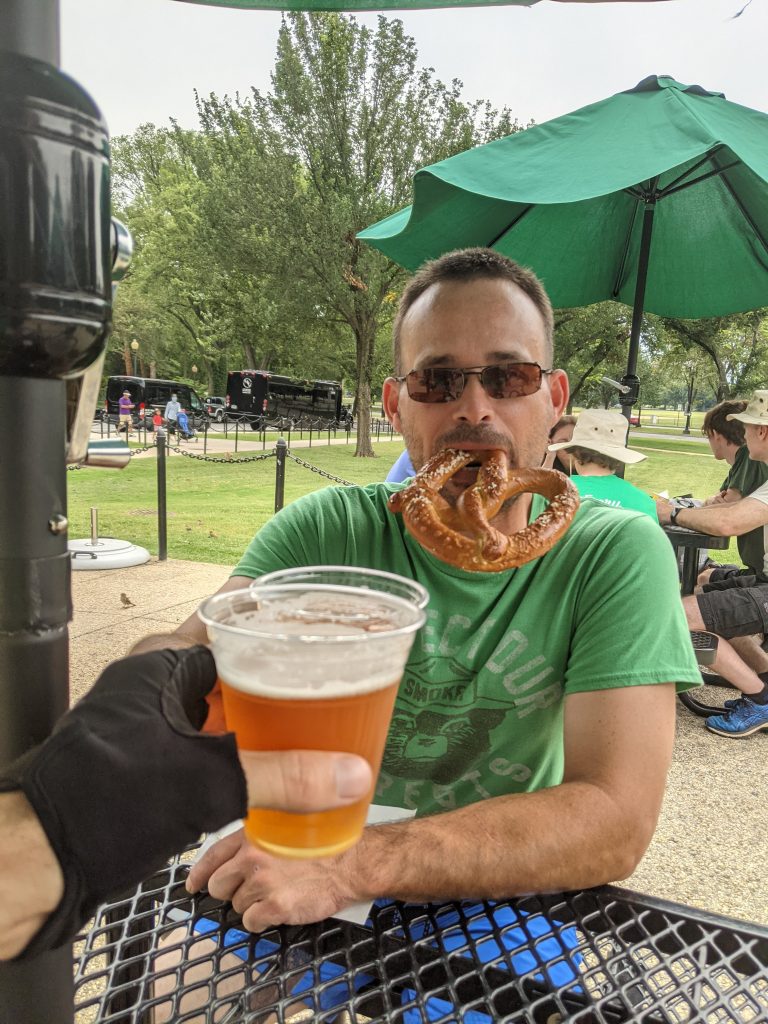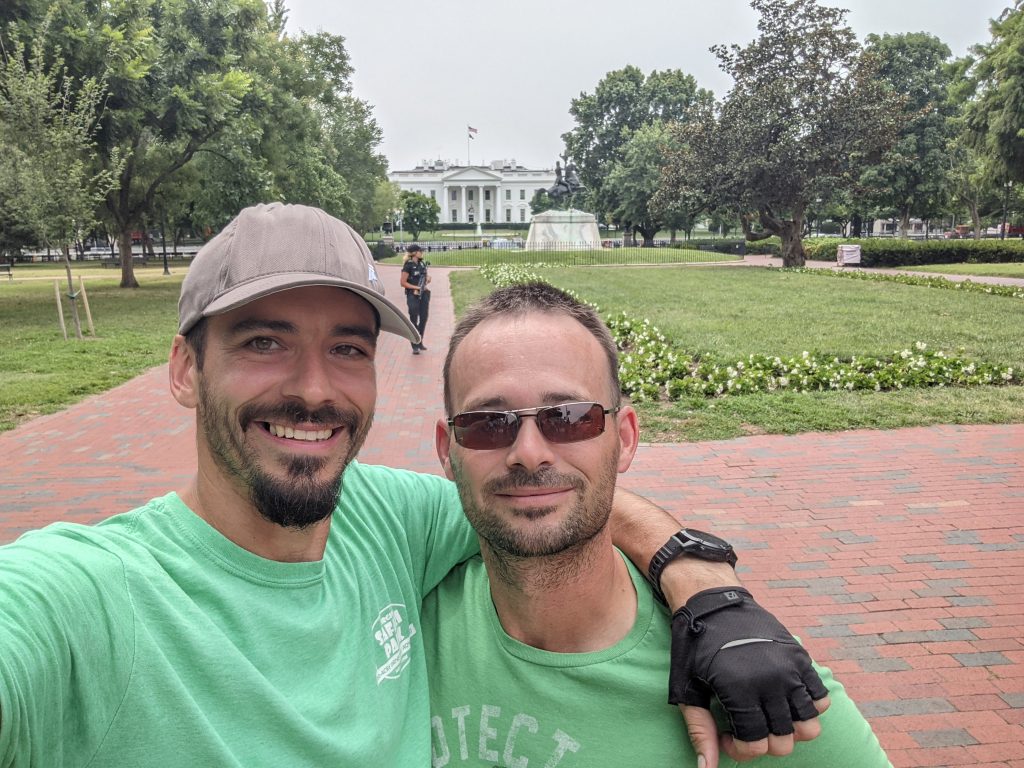 After circling around the white house and exchanging comments about the armed guards we decided to head across the Arlington Memorial Bridge and enter the Arlington Cemetery specifically to visit the Tomb of the Unknown Soldier in the Arlington Cemetery. This is the only place on our tour that we actually went in to. Until my brother brought me there I had no idea this existed little own its importance. We silently appreciated the Tomb of the Unkown Soldier for quite a while before heading to the Pentagon. Despite the fact that the Pentagon was still closed due to Covid, we likely would not have toured the place. We still let our minds wander just staring at that building wondering what variety of conversations have been had there and how many clandestine operations must have been hatched both from inside this building outward but from the outside of the Pentagon in attempt to listen in.
The trip back to Gravelly Point from the Pentagon was provided to us at the time by Google and wasn't especially enjoyable. Nevertheless we made it back in good shape, feeling great and having enjoyed an easy cycling tour of the capitol. This ride was roughly 20 miles which, according to the internet is the perfect length for a bike ride.
I would NOT tour the National Mall by bike on fair weather weekends or any time during the Cherry Blossom bloom. There are just too many pedestrians and cars for it to be an enjoyable cycling tour during those times.