What's going on?
I'm trying the carnivore diet because, like any diet, it seems like it could have a positive impact on my life. I don't imagine I will permanently damage anything by eating just meat and eggs for 30 days. I'm really curious how I'll feel on this hyper-keto diet. This is of course not a very scientific reasoning but it works for me.
I'm going to log how I feel along with the food I ate. I'm training to compete in triathlons this summer so I may share some details about how I feel exercising but will save the exercise log unless it becomes relevant. On average I burn about 1,200 calories a day exercising 5 days a week. I'm weighing myself daily and will drop a graph of the time period at the end. I wear a Garmin Phoenix 6 so if there are any other neat changes to the metrics it's measuring, I will share those at the end of this exercise. I'm also not logging all the extra salt I put on food. The only seasoning I'm using on anything is salt and I'm using a lot of it.
When this is all said and done, I will get the Walk-in-Lab Wellness #2 Essential Blood Test performed and see how broken I am. My cholesterol is already a bit high but all my other markers are within normal measurements. Here's to hoping I feel great!
I fell off the bandwagon after nearly three weeks and my blog editor was throwing an error so I abandoned the completion of the project. I did however start to come around and feel pretty darn great after two weeks so I will come back to this and try it again.
Day 0
Just got back home from vacation and ate a bunch of junk food for breakfast that I didn't log so this day doesn't count. Still had a tasty carnivore lunch and dinner.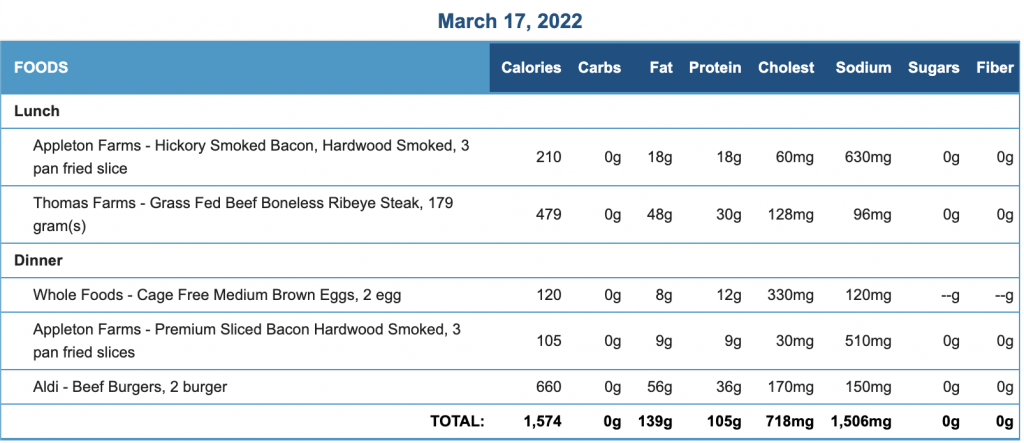 Day 1
I ate way too much today. I didn't really feel like eating breakfast but I shoveled in a steak anyway and I didn't feel like eating dinner either but I ate my plate and all the extra short ribs that were left over. Just using salt and bacon grease as seasoning was still surprisingly good. I ultimately had a hard time going to sleep because my stomach was not happy.

Day 2
I was not hungry at all today and my farts were not to be trusted. We brought lunch to our families house which was an interesting compromise. Carnivore is a bit more simple and more heavy then your typical light brunch options so we brought tuna fillets, scallops and rice for everyone else and called it lunch. It worked out. I was really not hungry at all but the food still tasted good and went down easy. My gut was not happy for most of the day until I put in an hour easy ride on the trainer. Saturdays are our movie nights where we usually eat junk food and get fat on the couch while melting our brains to a couple movies. The kids still had popcorn but Z and I ate pork rinds and I had a bunch of cheese. I'll probably cut the cheese in coming weeks since it historically has not settled well with me anyway, might as well nix it. It doesn't seem that I'm off to a very good start. lol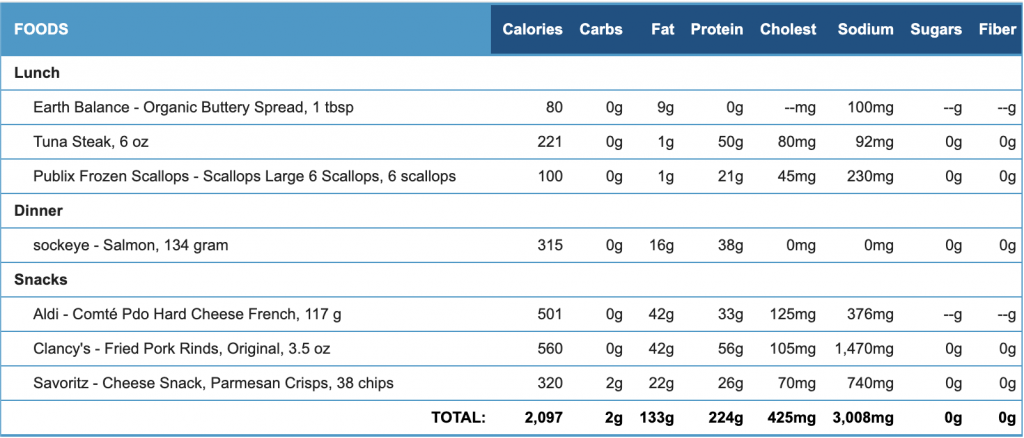 Day 3
This morning we got out really early so we could go see the cherry blossoms around the Tidal Basin in Washington D.C. I packed a bunch of snacks we could eat but after making a one lap around the Tidal Basin we wanted to burn off some time so we went to Silver Diner and ordered steak and eggs and subbed the hash browns for bacon. It worked out quite nice. After that I went on a 10 mile tempo run and I'll be damned if my body wasn't screaming EAT THE FRUIT! 😳 I ended up making some salmon and scallops as a post-run snack but it wasn't nearly as satiating as some fruit would have been.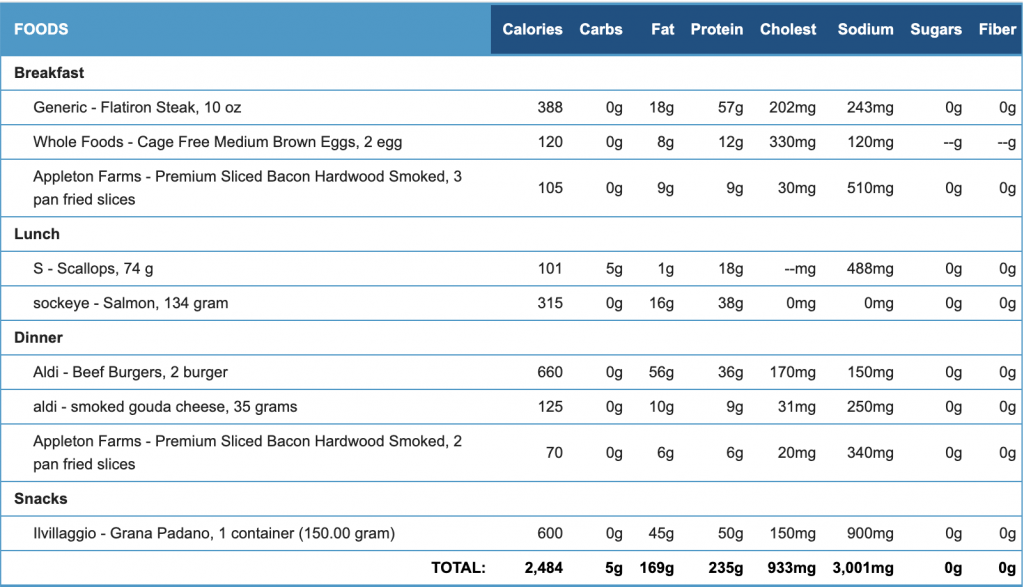 Day 4
Day 5
Had a hard time falling asleep last night and woke up feeling really tired this morning even after 7 hours of sleep. Since getting on this diet my resting heart rate has not dropped below 55bpm which is 10bpm higher than my normal sleeping heart rate of 45bmp. Shortly after waking up I jumped on the bike for an hour of easy Zone 2 work that felt like a total slog. I wanted to quit but made it through. I felt hungry quite a bit today.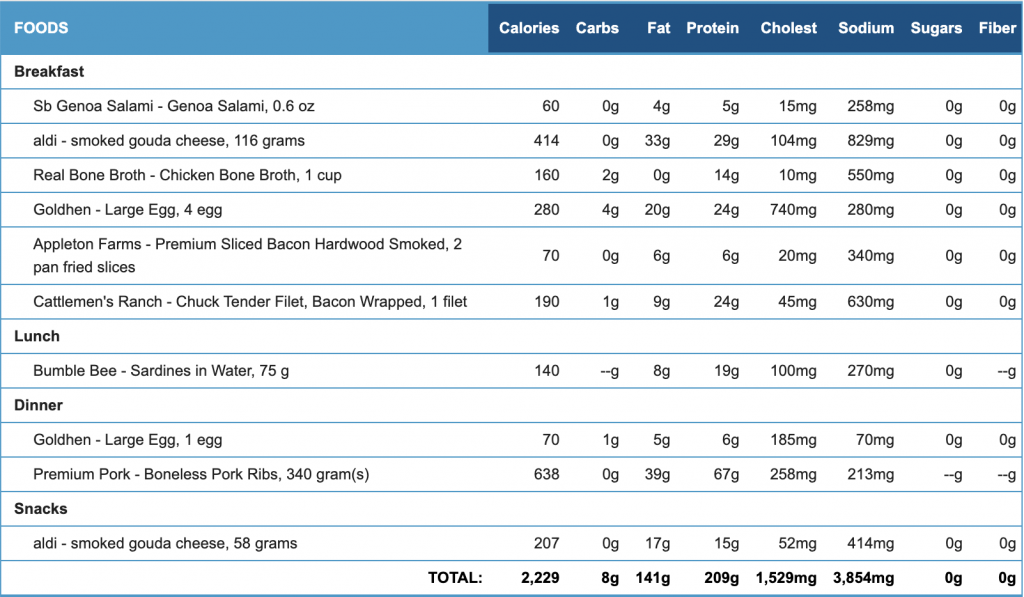 Day 6
Had another difficult time getting up even after 8 hours of good rest. My resting heart rate did drop below 50bpm last night, reaching 47bpm. I again felt like my morning jog to and from the gym and swim at the gym were a total slog. On the run home I even walked a tiny bit which is absolutely not something I ever do on the super easy morning jogs. I have to assume this is just a physical adaptation period because my focus and all day energy levels are super great. A bit better than normal with absolutely zero fluctuation in operational energy all day. After actually waking up I'm alert and aware with no drowsiness all day. I've just taken a huge hit to my endurance. Perhaps I'll try some strength training tomorrow to see how that goes.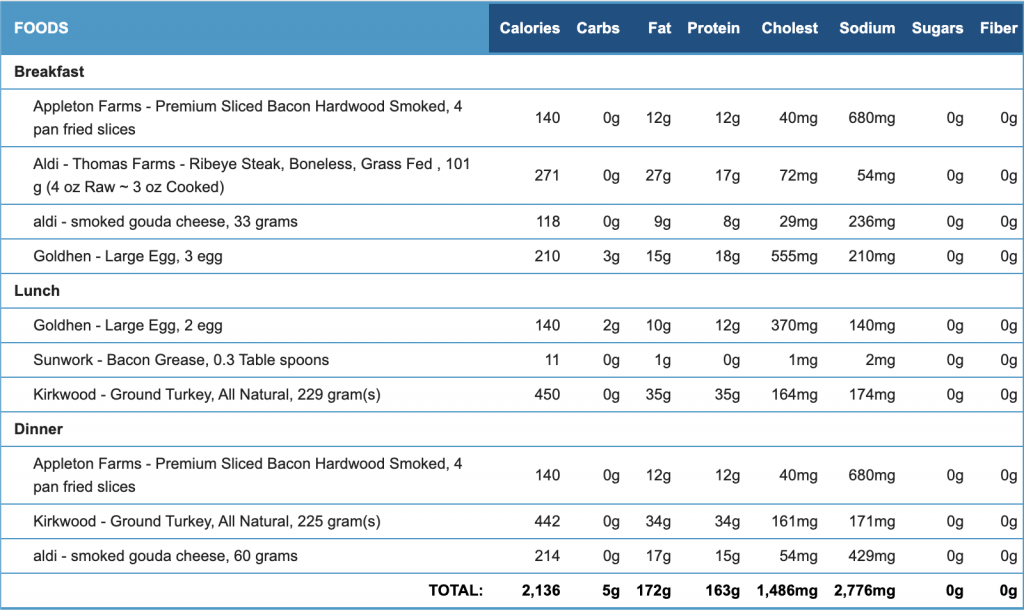 Day 7
Woke up pretty easily this morning with only 6.5hrs of sleep. My resting heart rate at night is back down to 45bpm. I'm really craving gorging a whole darn cake… I cheated today and drank a beer which lead to completely falling off the bandwagon. Max and I bugged Z until she made a cake for us so I had a slice. I also had a couple glasses of whisky all after entirely abandoning exercise for the day.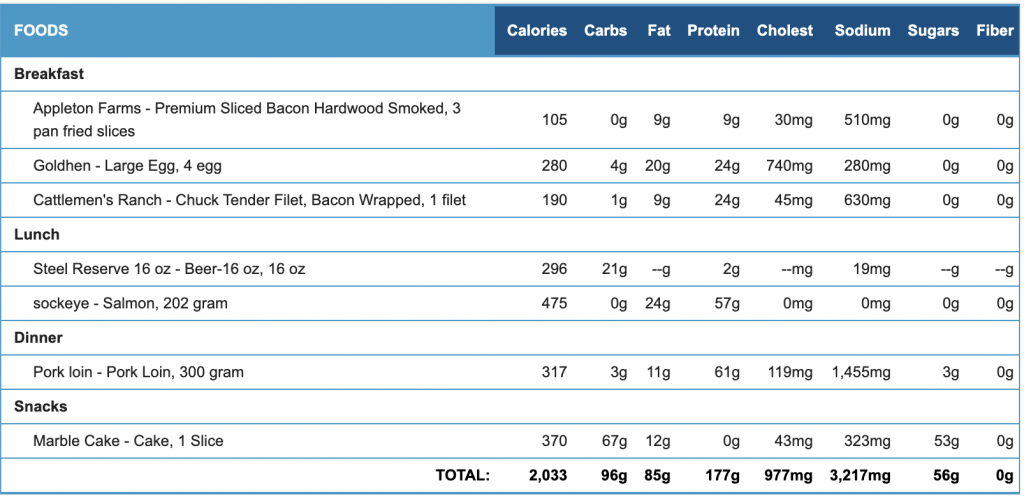 Day 8
Slept in this morning and skipped my gym routine. I felt bad for skipping fitness so I jumped on the trainer for an hour zone 2 but bailed out after 30 minutes. I'm either broken, or the physical adaptation period of this zero carb diet is rough… I'm hoping it's the latter. Continuing from yesterday, I had a couple glasses of whisky I didn't log.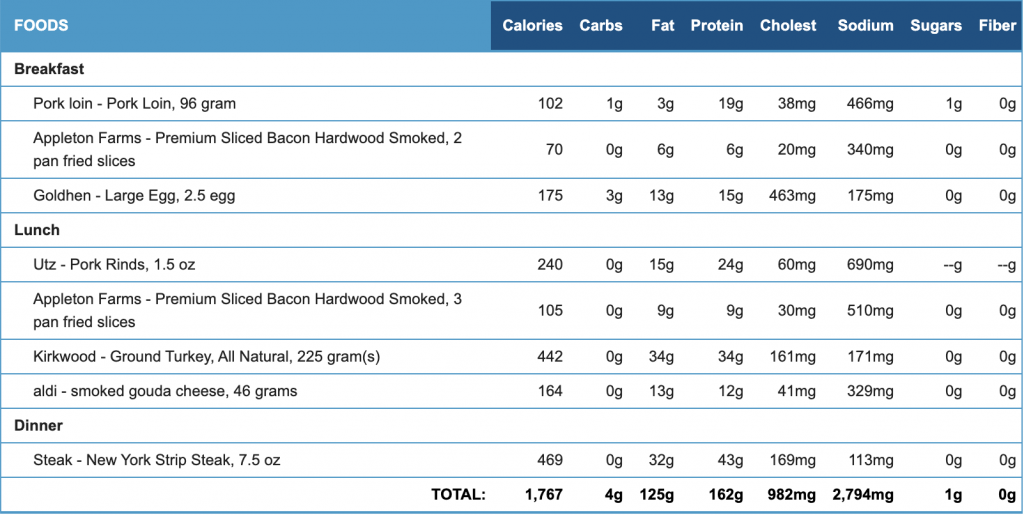 Day 9
Woke up with the strangest back pain today. It actually started yesterday but was quite significant this morning. It's not the normal pain associated with spinal injuries that I've had most of my life. Perhaps not surprisingly, the normal back pain I live with has gone away. This pain is not on the spine but mostly to the right of my spine and very low in my back. It's almost like I ripped a muscle or something. It's quite unpleasant but not sharp like smashing nerves. Z suggested it might be from the whisky I had since the last two nights I had a couple glasses of whisky.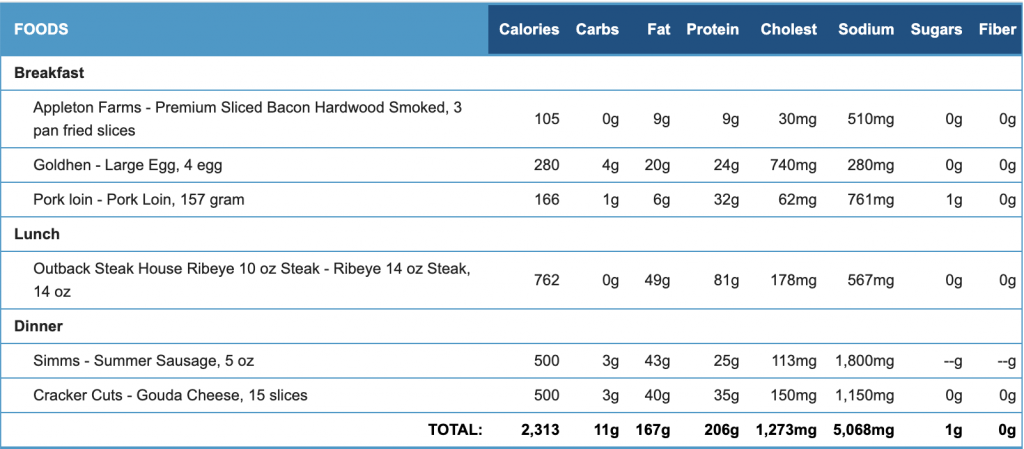 Day 10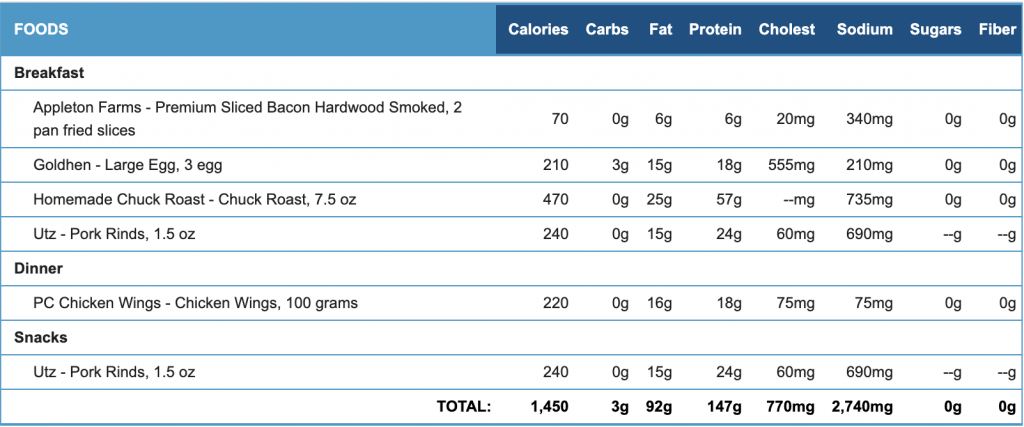 Day 11

Day 12
Nothing crazy to report today. Just settling in for the long haul it seems. I thought about fasting the entire day but as I rounded 20 hours fasted I bailed on the idea and ate some salmon sashimi.

Day 13
I keep waking up and jumping on the trainer in hopes of having my physical energy back. Today I decided to do an easy 20min warmup and then do a ramp test on TrainerRoad. My functional threshold power (FTP) is now 215 down from 252. Not super excited about this 15% loss because I have a triathlon race in 9 weeks and I was really hoping to increase my FTP to turn in a better time on the bike. Never the less, I have re-adjusted my FTP and will continue to work back toward my goals of 270FTP. It's not all dark clouds and rainy days. The mental focus and super consistent energy levels I have now are super great. If I can find the physical energy again then this will definitely be a huge success.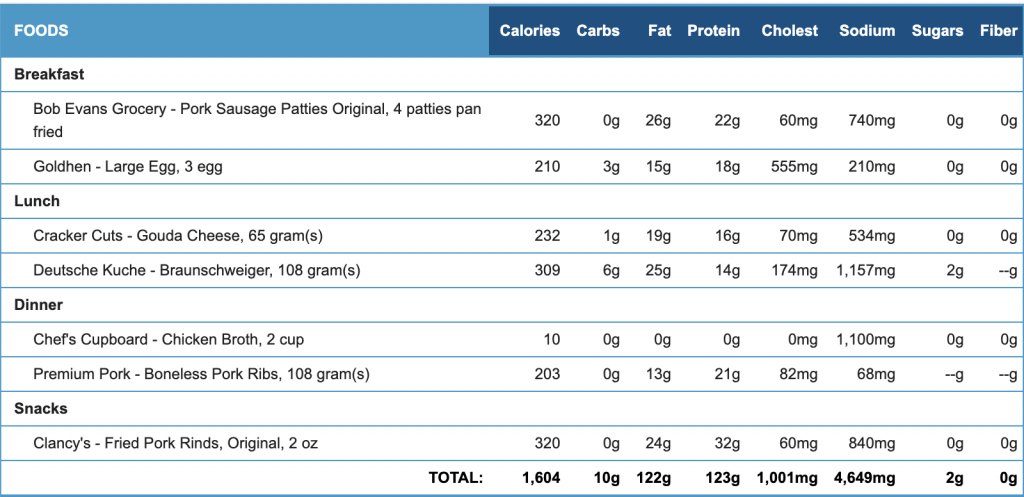 Day 14
I woke up and tackled the ramp test again feeling a bit better. My legs are slightly fatigued from the ramp test yesterday but I gave it another go feeling pretty good. I dug pretty deep but was able to secure a new FTP of 236 which is quite a bit higher than yesterdays 215. I just need to dig in and train hard.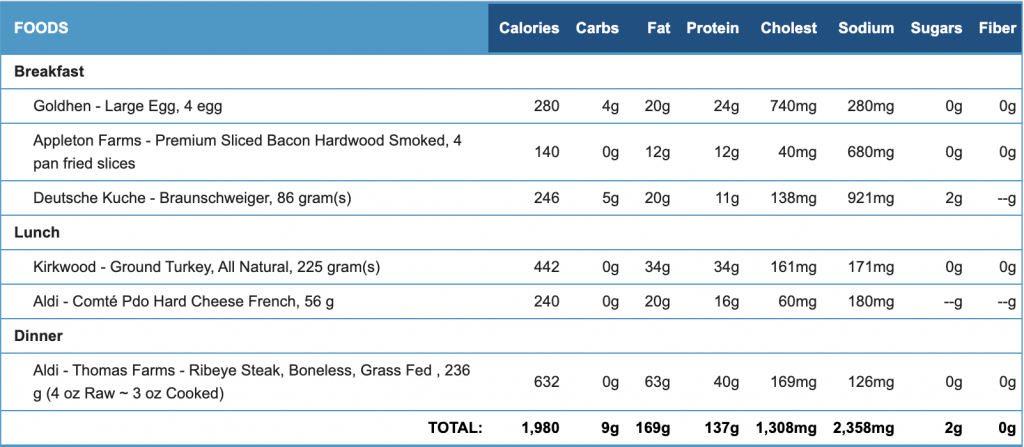 Day 15
Feeling super great this morning as I was able to jog 5k to the gym, swim a mile and jog 5k back without breaking a zone 2 heart rate. This definitely means I'm coming around to physical adaptation and i can really feel it. HOWEVER! LoL. I took Max to the Paw Patrol live theater show and she had asked for chicken tenders and french fries at intermission. It didn't even cross my mind to eat the cotton candy or drink the lemonade she had but when I was holding her chicken tenders and fries I was overwhelmed with how good something that I was eating tasted. I realized I was eating her french fries. lol. I tell you what, those were some of the tastiest french fries I've had in recent history! 🤩 Since I was already in the no fly zone I went all in and had one of her chicken tenders, a long drink of lemonade and a handful of cotton candy. hehehe. Life was good.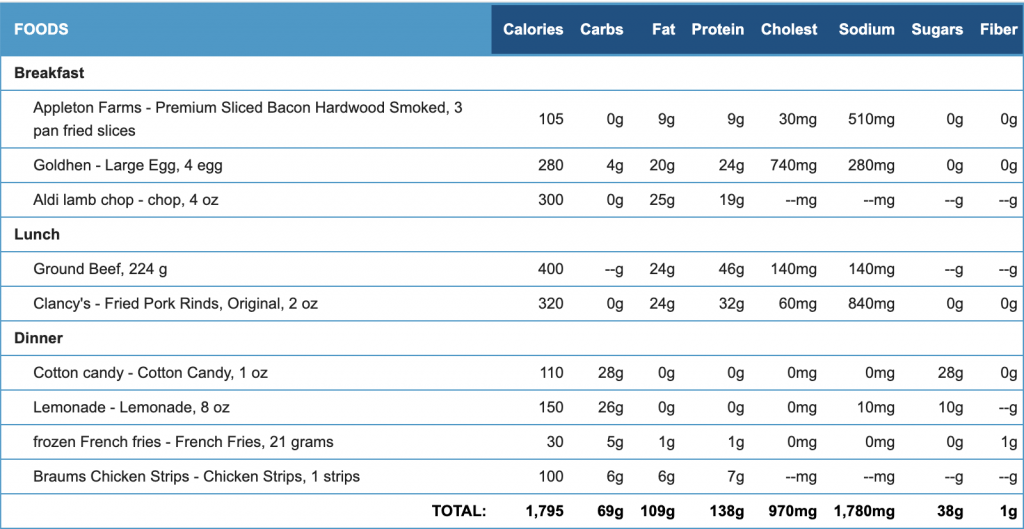 Day 16